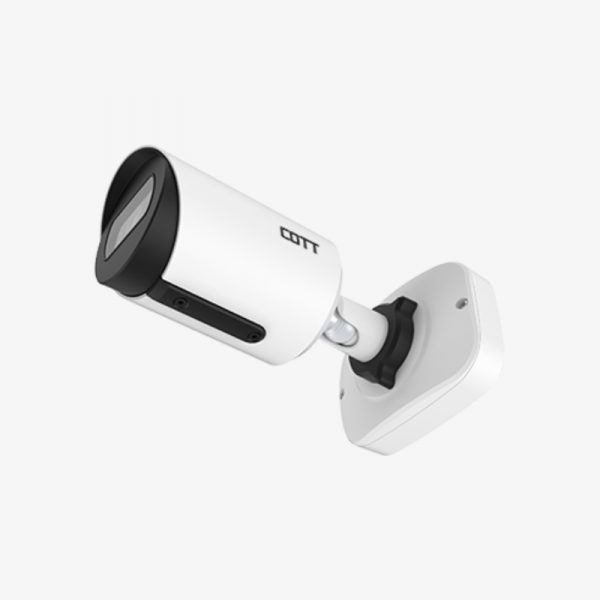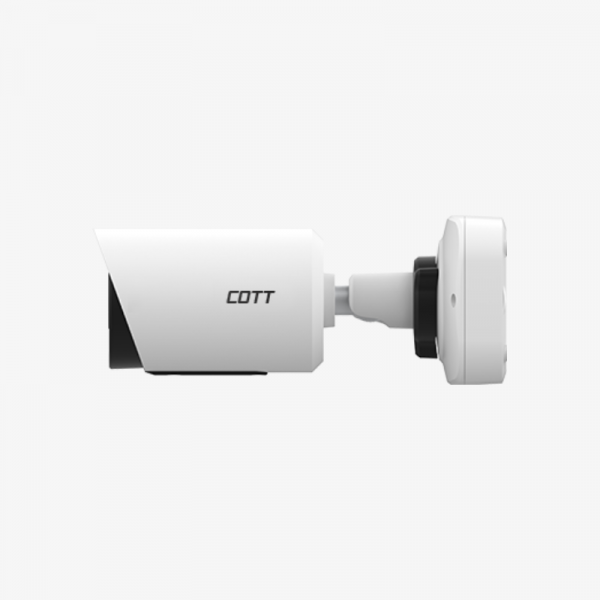 H.265+ Vandal-proof Mini Bullet Network Camera
Robust Camera with Ultra Wide Angle Lens
2/5MP · 140dB WDR · 0.002Lux Ultra Low-light
IP67 · IK10 · Smart IR II · 30m IR Distance · PoE
Description

Specifications
Video Content Analysis (VCA)
VCA with 10 detection modes provides advanced, accurate smart video analysis for COTT network cameras, enabling comprehensive surveillance and a quicker response to different monitoring scenes.
Wide Angle, High Resolution
Featuring a 2.8mm ultra wide angle lens, the camera is able to catch more than a 120° field of view, which is the best in the industry. And with a resolution of up to 5MP, it guarantees superior image details in wide angles.
0.002Lux Ultra Low-light
The starlight camera is able to deliver high detailed color images even in low-light environments reaching 0.002Lux (Color) or 0Lux (B/W), and near infrared light environments without any supplementary lighting.
140dB Super WDR
COTT's sensor-based WDR technology allows the camera to record greater scene details with true color reproduction even under extreme back-light and high-contrast conditions. The ratio that the brightest light signal values can be divided by the darkest light signal values is up to 140dB.
Inimitable Mini Bullet
Sticking to the original design, the H.265+ Vandal-proof Mini Bullet Network Camera is redesigned while maintaining its style. The weight and size are greatly reduced from 765g to 450g and from 76mm x 208mm to 64mm x 160mm respectively, which makes the camera a truly MINI bullet with no compromise on the functionality.
Smart IR II Technology
To maximize the IR performance, the Vandal-proof Mini Bullet Network Camera innovates both in structure and technology. The advanced Smart IR II technology guarantees IR performance with adjustable illumination intensity up to 30m. The infrared light transmission is greatly increased with an IR anti-reflection panel well designed for better IR effect.
Unique Structure Design
The user-friendly design of the SD card slot and reset button offers maximum usability and extensibility. At the rear, it is a 3-axis adjustable bracket, meeting flexible installation needs.
IP67&IK10
The camera features industry-leading IP67-rated weatherproofing and IK10-rated vandal proofing, which protect the camera against any adverse impact and ensure the robust performance.
Integrated Junction Box (Optional)
The well-designed Integrated Junction Box ensures efficient and simple installation. It enlarges the space to make cable connections neat and easy. With the help of the rubber plugs and rubber ring which guarantee IP67-rated weather-proof capability, the Integrated Junction Box is able to offer stable operation in any tough conditions.
SIP/VoIP Support
The COTT H.265+ Mini Bullet Network Camera features industry-leading SIP/VoIP function and video streaming for mobile phones and video phones.