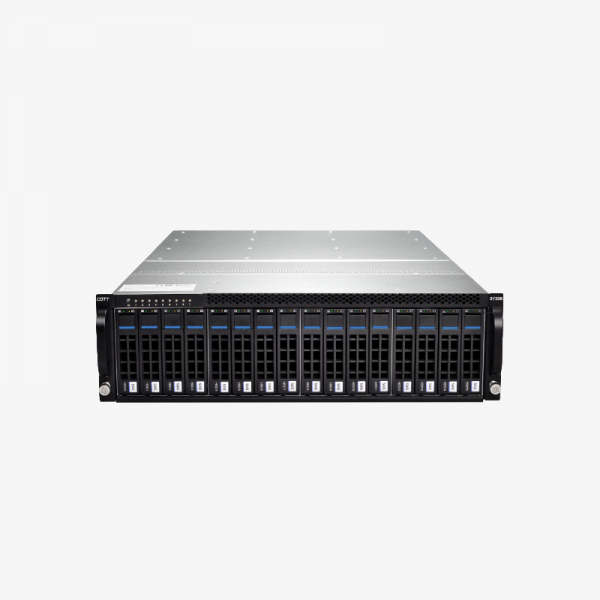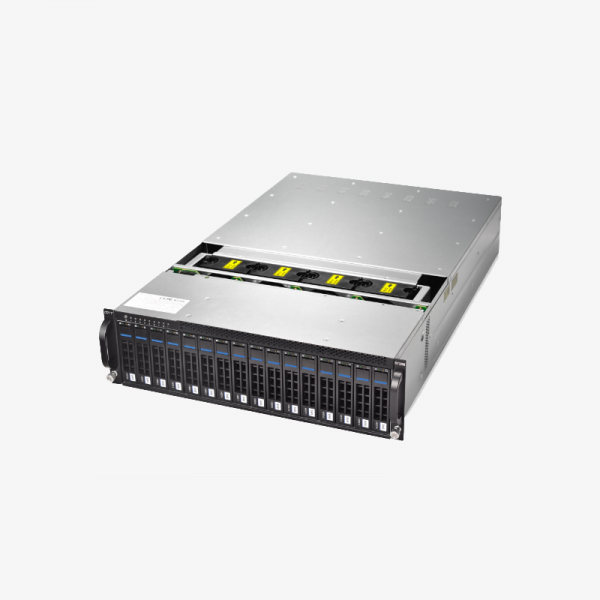 High-Density Servers
Dual CPUs Controller Module
The COTT 2U Dual-CPU High-Density Servers integrates the motherboard and PCIe add-on cards in a single controller module; forming an easily-swappable interface through high-speed signal connectors, and benefiting users from an administration and maintenance perspective.
Description

Specifications
Flexible Network and Storage Expansion 
Two types of controller with PCIE slot expansions and power supplies. The system can support a maximum of 4x full height PCIE slots with GPU cards with 2x internal 2.5″ integrated system drives,or up to 16x 3.5″ HDDs for the highest storage density with two full height PCIE slots. Each controller type can support up to 4x GbE ports or 2x 10GbE  ports as options.
Massive Memory 
The motherboard supports up to 16 DDR4 memory DIMMs.
And the RDIMM maximum capacity supports 1TB of storage.
Cable-free Optimization
With a cable-free design, you can replace the cables by high-speed PCBs, greatly improving system reliability and heat dissipation performance.
Fully Modular Design
The controller, power supply, and hard disk are fully modular. If any part of the controller fails, just easily pull out the particular controller for maintenance.
BBU for Data Protection
During an accidental power down, the system will automatically enable the built-in backup battery to save the running data. It can prevent data loss and file system destruction, and sustain system operation for over  10 minutes.
Model

Double-stack Bare-bones Server

Storage Drives

Supports 12x 3.5"SATA3.0 and optional 2x 2.5"SATA3.0 hot-swap HDDs at rear

System Weight

Net Weight: 17.55 kgs / Gross Weight: 23.8 kgs

Memory

Up to 1TB DDR4 1866/2133/2400 ECC RDIMM and LRDIMM via 16x DIMMs

CPU

2x CPUs

GPU

Supported

Power Supply

1+1 550W CRPS, optional BBU module

System Dimensions

26.57" *17.63" *3.52" (D*W*H)

MB Model

G1DCW

CPU Type

Intel® Xeon® E5-2600 v3/v4 series processor (Max TDP 145W)

Chipset

Intel® Wellsburg C612 PCH

DIMM Quantity

16x 288pin DDR4 DIMM slots

DIMM Type

Type: Up to 1TB DDR4 1866/2133/2400 ECC RDIMM and LRDIMM
Capacity : 8GB, 16GB, 32GB or 64GB

Built-in RAID

Intel® RSTe Support software RAID 0, 1,5 & 10

BMC

Aspeed AST2400

IPMI

Support Intelligent Platform Management Interface(IPMI 2.0) Remote Management

PCI-e

Supports 4x PCIe 3.0 slot full height

Network

Up to 4x GbE and 2x 10GbE SFP+

USB

Internal 1x USB3.0, 2x USB2.0 at Front, and 2x USB3.0 at Rear I/O

M.2

Support M.2 PCIe Gen3 X4

Power Module

1+1 redundant PSU and optional BBU

Power Efficiency

CRPS 800W module 80+Platinum

Power Input / Output

AC Input:100-240V 47Hz~63Hz / DC Output:+12V,+5V_SB

FAN Quantity

Up to 4x 8038 (dual rotor), support PWM smart fan control

FAN Speed

Maximum 6800RPM

Operating System Support

Microsoft Windows Server 2008 R2(x64)
Microsoft Windows 2012 (x64)
Microsoft Windows 2012 R2 (x64)
Microsoft Windows Server 2016 (x64)
Red Hat Enterprise Linux* (x64)
SUSE Linux Enterprise Server* (x64)
Ubuntu Linux Server* (x64)

Virtualization System Support

Vmware ESXi 5.1 U2 P05(except Fultondale),ESXi 5.5
Microsoft Windows Server 2008 R2 SP1
Microsoft Windows Server 2012
Microsoft Windows Server 2012 R2
Microsoft Windows Server 2016 (x64)
Xen 3.3/3.4/3.5 Linux KVM(RHEL 6)
Microsoft Azure (Parallel Server)

Temperature

OP:10℃ ~ 35℃; NON-OP:-40℃ ~ 70℃

Humidity

OP:35%~80% ; NON-OP:20% ~ 90

Certifications

CE, FCC, ROHS