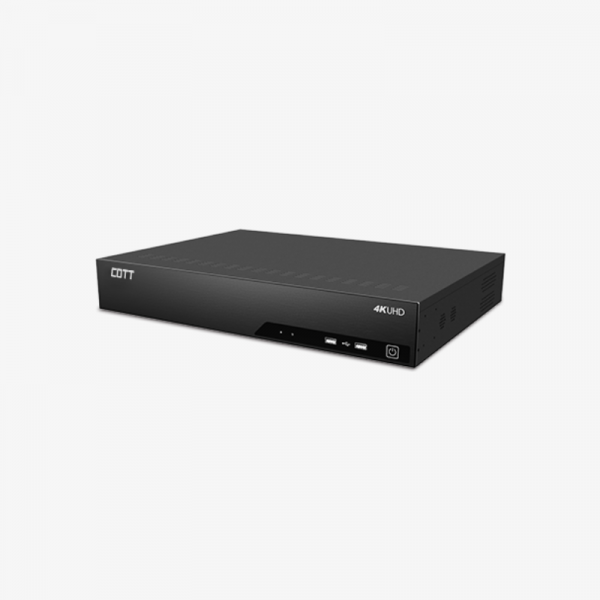 4K H.265 Pro NVR 7000 Series
16/32 Channels NVR with 4K UHD Performance
40TB Storage · 4K Ultra HD · Dual Stream · HDMI · RAID · Fisheye Mode Compatibility · Audio I/O · Alarm I/O · ONVIF
Description

Specifications
New File System
Armed with a superior file system, our NVRs bring completely new user-experience.
· Lock Record File, Tag Video and Playback File Management
· General, Event, Tag and Picture Playback
· Common Backup, Event Backup and Picture Backup
· NAS and Disk Group Function
4K Video Viewing Experience
The COTT 4K H.265 Pro NVR 7000 Series introduces a whole new smoother operational interface. With direct access to 4K network cameras, it can decode 4K real-time video and recording to provide users with an ultra-high-definition video viewing experience.
Optimized Hard Disk Installation
Our hardware components are optimized to meet the demands for convenient and stable hard disk installation. With 4 HDDs tightly screwed in a bracket and the bracket locked in the slots, the hard disks are surprisingly easier to mount and installation time is greatly minimized.
Versatile Interfaces
The COTT 4K H.265 Pro NVR 7000 Series comes with a whole array of ports such as an HDMI port, a VGA port, 3 USB ports, Alarm I/O, Audio I/O and 2 LAN ports. The full set of interfaces provide all necessary features for effective surveillance.
Powerful Decoding and Recording Performance
The COTT 4K H.265 Pro NVR 7000 Series is ideal for applications requiring robust decoding and recording performance, this series can support synchronous decoding of 4-CH 4K UHD, 8-CH 4MP and 16-CH 1080P network cameras, and synchronous recording up to 32-CH 5MP high resolution cameras.
COTT N+1 Hot Spare
Configured as an architecture of N pcs of Master NVRs and 1 hot spare slave NVR, the COTT N+1 Hot Spare guarantees data integrity and the reliability of the video surveillance system. If any one of the master NVRs fails, the slave NVR can take over the data to ensure continuous video recording. When the failed NVR recovers, the slave NVR will send the data back to prevent any risk of data loss.
Reliable ANR
Improving storage reliability and stability, ANR (Automatic Network Replenishment) allows you to automatically store video data on the network camera storage card when the network is disconnected, and retrieves it after recovery of the connection.
Dual LAN interfaces for three network working modes
Multi-address
Two Ethernet interfaces use different IP addresses and work separately in LAN1 and LAN2. One of them could be chosen as the default LAN to transmit data.
Load Balance
Two Ethernet interfaces use the same IP address. And they share the bandwidth of the system, which is aimed at increasing the throughput.
Net Fault-tolerance
Two Ethernet interfaces use the same IP address. One is main, and the other is for backup. If the main Ethernet interface is damaged, it will switch over to the backup one automatically to ensure normal function.
RAID 0/1/5/6/10 Supported
RAID (Redundant Array of Independent Disks) is a method of combining hard disks as a logical unit to achieve redundancy and greater speed of writing and reading data. There are 5 different RAID levels (0,1,5,6,10) supported by the COTT 4K H.265 Pro NVR 7000 series, which can be configured according to the user's exact project requirements for data protection and storage space, providing reliability, and high availability of storage.
Video Content Analysis (VCA)
COTT VCA with 10 detection modes provides advanced, accurate smart video analysis for COTT network cameras and NVRs, enabling a more comprehensive surveillance function. Modes include: Region Entrance, Region Exiting, Advanced Motion Detection, Tamper Detection, Line Crossing, Loitering, Human Detection, People Counting, Object Left and Object Removed.