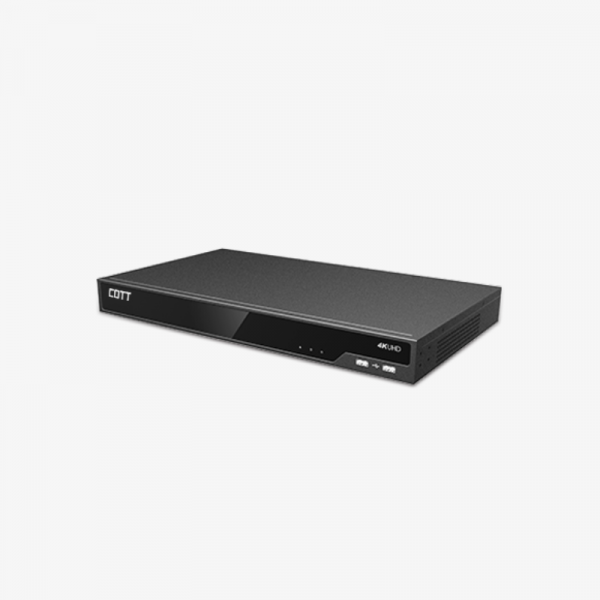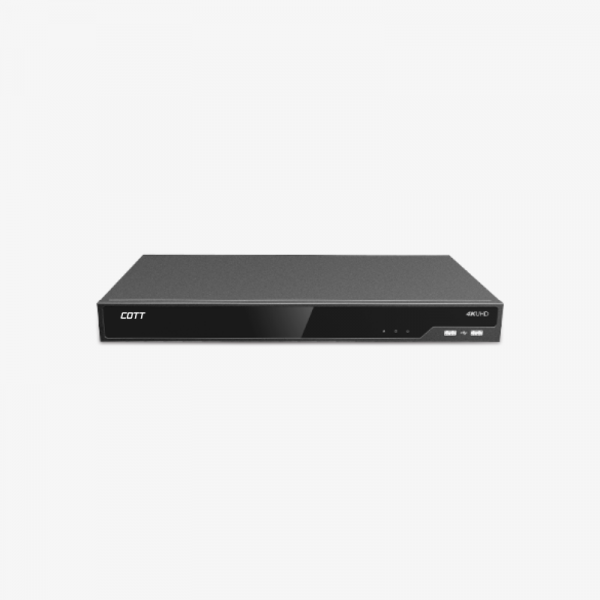 4K H.265 PoE NVR 5000 Series
True Plug & Play with 8-CH/16-CH PoE Ports
8/16 Channels · 20TB Storage · 4K Ultra HD · Dual Stream · HDMI · Fisheye Mode Compatibility · ONVIF
Description

Specifications
New File System
Armed with a superior file system, our NVRs bring completely new user-experience.
· Lock Record File, Tag Video and Playback File Management
· General, Event, Tag and Picture Playback
· Common Backup, Event Backup and Picture Backup
· NAS and Disk Group Function
Plug and Play
COTT's PoE NVR 5000 features 8/16 independent PoE ports for easy connection and configuration of network cameras, which will provide power to the camera while streaming video/audio/data over one single cable. The NVR will automatically detect, configure and play the live view of the network cameras once the cable is plugged in,  greatly reducing the time and expertise needed to achieve a virtually hassle-free installation process.
4K Video Viewing Experience
The COTT 4K H.265 PoE NVR 5000 Series introduces a whole new smoother operational interface. With direct access to 4K network cameras, it can decode 4K real-time video and recording to provide users with an ultra-high-definition video viewing experience.
Powerful Decoding and Recording Performance
COTT's 4K H.265 PoE NVR 5000 Series is ideal for applications requiring robust decoding and recording performance, this series can support synchronous decoding 2-CH 4K UHD, 4-CH 4MP, 8-CH 1080P and 16-CH 720P network cameras, and synchronous recording up to 16-CH 5MP high resolution cameras.
Dual Stream Recording
Dual Stream Recording enables the NVR to record in Primary+Secondary Streams. In remote playback, the Secondary Stream is recommended for a better viewing experience.
Reliable ANR
Improving storage reliability and stability, ANR (Automatic Network Replenishment) allows you to automatically store video data on the network camera storage card when the network is disconnected, and retrieves it after recovery of the connection.
Versatile Interfaces
COTT's 4K H.265 PoE NVR 5000 Series comes with a whole array of ports such as an HDMI port, a VGA port, 3 USB ports, 8/16 PoE ports, Alarm I/O, Audio out and a LAN port, etc. The full set of interfaces provides all the necessary features for effective surveillance.
Video Content Analysis (VCA)
COTT VCA with 10 detection modes provides advanced, accurate smart video analysis for COTT network cameras and NVRs, enabling a more comprehensive surveillance function. Modes include: Region Entrance, Region Exiting, Advanced Motion Detection, Tamper Detection, Line Crossing, Loitering, Human Detection, People Counting, Object Left and Object Removed.