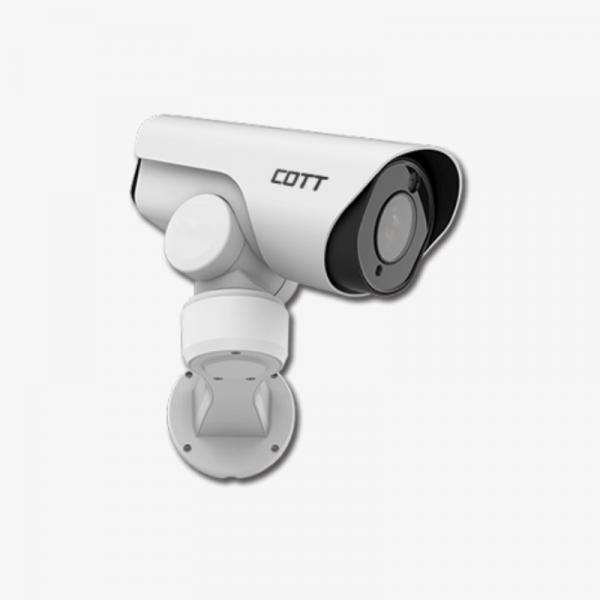 12X H.265+ Mini PTZ Bullet Network Camera
PTZ to Move Your World
2/5MP · 12X Optical Zoom · 140dB WDR · 0.002Lux Ultra Low-light · IP66 · PTZ Auto Tracking · 3D Positioning · PTZ Motion Detection · 60fps · PoE
Description

Specifications
Video Content Analysis (VCA)
COTT VCA with 10 detection modes provides advanced, accurate smart video analysis for COTT network cameras, enabling a more comprehensive surveillance function and quicker response to different monitoring scenes. Modes include: Region Entrance, Region Exiting, Advanced Motion Detection, Tamper Detection, Line Crossing, Loitering, Human Detection, People Counting, Object Left and Object Removed.
Flexible Pan, Tilt and Zoom Tasks
COTT's 12X H.265+ Mini PTZ Bullet Network Camera offers the ability to quickly and precisely rotate on a 360° pan and 75° tilt to survey a very wide territory. The user can easily set up to 255 preset positions and up to 8 patrol routes and a maximum of 4 patterns of manual operation paths. Moreover, the user is able to schedule specific PTZ tasks by date and time.
12X Optical Zoom
The 12X Optical Zoom can view very distant objects while still maintaining clarity, delivering high quality video over the entire zoomed image.
0.002Lux Ultra Low-light
The starlight camera is able to deliver highly detailed color images even in low light environments reaching 0.002Lux (Color) or 0Lux (B/W), and near infrared light environments without any supplementary lighting.
140dB Super WDR
Our sensor-based WDR technology allows the camera to record greater scene details with true color reproduction even under the extreme back-lit and high-contrast conditions. The ratio that the brightest light signal values can be divided by the darkest light signal values is up to 140dB.
Smart IR II Technology
The IR LED technology has been upgraded to provide videos with a range of up to 140m. Two LEDs on the top work as High Beams, while the other two on the bottom as Low Beams for better image clarity and quality regardless of the object distance. Also, the Low Beam and High Beam's brightness can be adjusted manually or automatically set to correspond to the zoom ratio.
Intelligent White LED
With a 15° viewing angle, the White LED can be turned on as a supplementary light source and a warning signal at night. Its brightness can be adjusted on the basis of the zoom level.
PTZ Auto Tracking
Once the PTZ Auto Tracking function is enabled, COTT PTZ cameras can leverage the motor mechanism to perform Pan/Tilt/Zoom to track the moving object automatically and adjust zoom status flexibly according to the object distance with the powerful optical zoom capability. Therefore, the target would be shown in the frame center and be zoomed to a proper size, achieving the smart, reliable and real-time video surveillance without any critical details missing.
Smart PTZ Motion Detection
The Smart PTZ Motion Detection function enables the user to monitor a specified area clearly in a timely manner. When there is motion detected in the target area, the COTT 12X H.265+ Mini PTZ Bullet Network Camera will pan and tilt to the position of motion detected automatically. Then zoom in to provide a clear image for a duration of time. If the duration expires, the camera will resume its previous monitoring position and zoom level.
3D Positioning
The COTT 12X H.265+ Mini PTZ Bullet Network Camera can be easily controlled via mouse – which is truly user-friendly. Left click on any position of interest in the video image, and the position will become the center of the current monitoring area. Use the left button of a mouse to drag a rectangle area, then the area will become the central area of monitoring with automatic zoom in or zoom out action. Rolling the mouse wheel up and down, the video image will be zoomed in and zoomed out immediately.
Comprehensive Defogging
The Mini PTZ Bullet Network Camera boasts a smart fan, a built-in heater and an image defogging algorithm for comprehensive defog performance.
Flexible Installation Modes
With two installation modes, Wall Mount and Pedestal Mount, the PTZ camera meets different installation needs for different application scenarios.
Integrated Junction Box(Optional)
Flexible installation is ensured as 12X H.265+ Mini PTZ Bullet Network Camera is equipped with an integrated cable management box. The creative clamshell design minimizes installation troubles and enlarges the space to make the cable connection a piece of cake. The IP66-rated housing shields the sensitive electronics from dust and water, which guarantees stable operation in any tough conditions.
SIP/VoIP Support
COTT's 12X H.265+ PTZ Bullet Network Camera features industry-leading SIP/VoIP functions and video streaming for mobile phones and video phones.