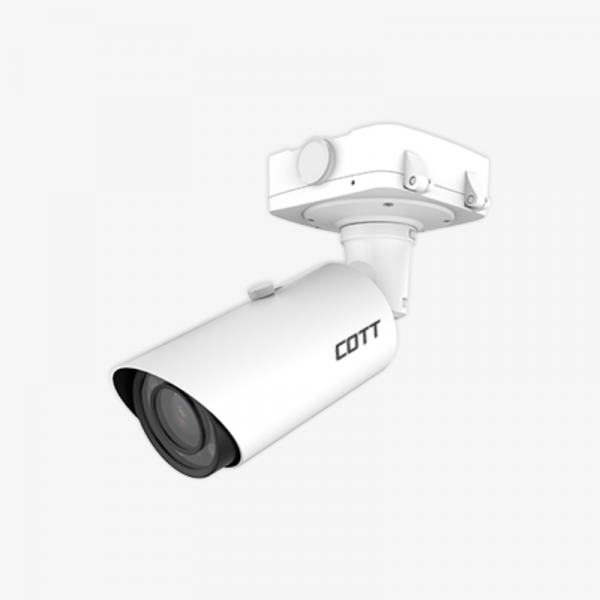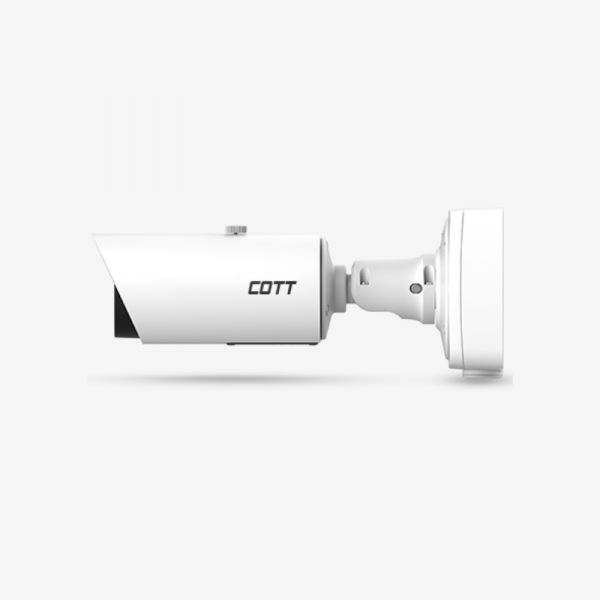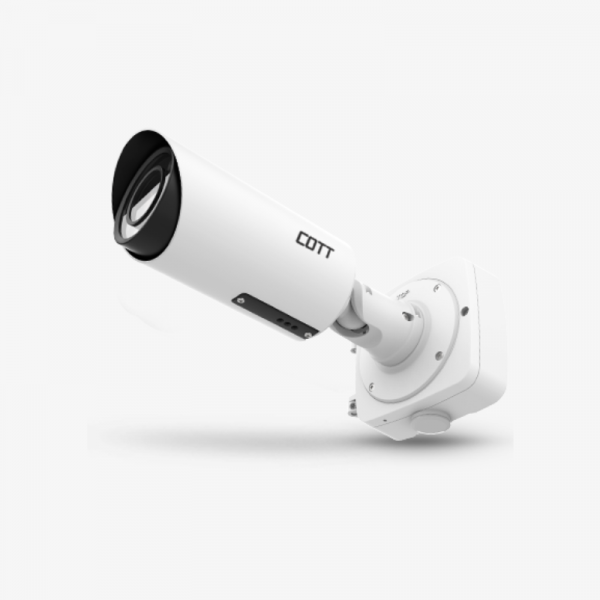 12X H.265+ AF Motorized Pro Bullet Network Camera
Faster, Further and Finer Details
2/5MP · 12X Optical Zoom · 140dB WDR · 0.002Lux Ultra Low-light · 120fps · IP67 · Smart IR II · 120m IR Distance · PoE
Description

Specifications
Video Content Analysis (VCA)
COTT VCA with 10 detection modes provides advanced, accurate smart video analysis for COTT network cameras, enabling a more comprehensive surveillance function and quicker response to different monitoring scenes. Modes include: Region Entrance, Region Exiting, Advanced Motion Detection, Tamper Detection, Line Crossing, Loitering, Human Detection, People Counting, Object Left and Object Removed.
12X Optical Zoom
The 12X Optical Zoom can zoom in on distant objects while still maintaining clarity, delivering high quality video over the entire image.
Up to 5MP High Resolution
The 12X H.265+ AF Motorized Pro Bullet Network Camera delivers up to 5MP resolution (2592*1944), providing users with a high definition viewing experience.
140dB Super WDR
Our sensor-based WDR technology allows the camera to record greater scene details with true color reproduction even under the extreme back-lit and high-contrast conditions. The ratio that the brightest light signal values can be divided by the darkest light signal values is up to 140dB.
120fps
With the industry-leading frame rate reaching 120fps, this COTT Network Camera can easily capture images without latency despite any high-speed movement.
3rd Generation Dot Matrix IR LEDs
In order to provide superior night visibility, COTT's 12X H.265+ AF Motorized Pro Bullet Network Camera employs 3rd generation dot matrix IR LEDs, essentially guaranteeing excellent image quality, long lifespan and energy efficiency.
Smart IR II Technology
The IR LED technology has been upgraded to provide videos with a viewing range of up to 120m. Six LEDs on the top work as High Beams, while the other two on the bottom as Low Beams for better image clarity and quality regardless of the object distance. Also, the Low Beam and High Beam's brightness can be adjusted manually or automatically based on the zoom ratio.
IP67 Weather-proof Housing
IP67-rated housing of the 12X H.265+ AF Motorized Pro Bullet Network Camera shields its sensitive electronics from dust and water, which ensures stable operation in all weather conditions.
PTFE Membrane
Applying the PTFE membrane to ventilation holes, the 12X H.265+ AF Motorized Pro Bullet Network Camera housing is designed to keep moisture and dust out while allowing air to flow into and out of the device, which effectively ensures pressure equalization in the enclosures and prevents fogging and a buildup of condensation of the lenses, guaranteeing the best image clarity.
Integrated Cable Management Bracket
On the base, there are the power interface, PoE port and other interfaces. Thanks to integrated cable management, installation is effortless.
Integrated Junction Box
A: The creative clamshell design minimizes any installation problems, enlarging the space to make cable connections simple.
B: The round design of the junction box conceals the cables inside, making it look more neat and clean.
SIP/VoIP Support
The 12X H.265+ AF Motorized Pro Bullet Network Camera features industry-leading SIP/VoIP functions and video streaming for mobile phones and video phones.